What a week last week! We finally launched delivery to Abu Dhabi and were honored to be a supporting partner for the 5th annual WOMEN ACHIEVE Symposium hosted by the AmCham Abu Dhabi.  You can read more about the event here. One of the distinguished speakers, Honorable Barbara A. Leaf, US Ambassador to the United Arab Emirates, was such a pleasure to listen to. She spoke about how her key to living a happy life was being confident, curious, and authentic. As a women-led business, we're not always the best at being confident, but she  simply said "fake it until you feel it", "fake it until you believe it", and "fake it until you make it". We left the event inspired about what we can achieve in Abu Dhabi and just a little bit more confident that we will make it!
Now you're probably wondering what does all of this have to do with a fish taco recipe… well we had someone tell us last week they loved the look of our recipes, but weren't sure they could actually make them! We always select our recipes based on seasonal fruits, nuts, and dried fruits available in our boxes and add ingredients that help you to take care of yourself and your health. This month it's about boosting your immunity, which is why we've selected a pineapple recipe, a single serving of which contains 130% of your daily Vitamin C.
This week we encourage you to pick just one recipe from our blog and "fake it until you make it", we promise your health will thank you!
Fish Tacos with Pineapple Slaw (serves 2)
40 – 50 minutes (not including marination time)
INGREDIENTS
For the slaw
One handful thinly sliced red cabbage

One diced tomato

Pineapple from the Fruitful Day Box

One sliced red onion

Juice 1 lime

One handful chopped coriander

Salt & pepper
For the fish
Two fillets of white fish (sea bass, sea bream, tilapia)

1 tsp chilli powder

1 tsp cumin powder

1 tsp garlic powder

1 tsp onion powder

1 tsp paprika

3 tbsp lime juice

3 tbsp olive oil
For the avocado pure 
One Avocado

Juice of 3 limes

1 tsp cumin

Pinch of salt

 
For the garnish
One thinly sliced radish

One handful coriander leaves

Sour cream
METHOD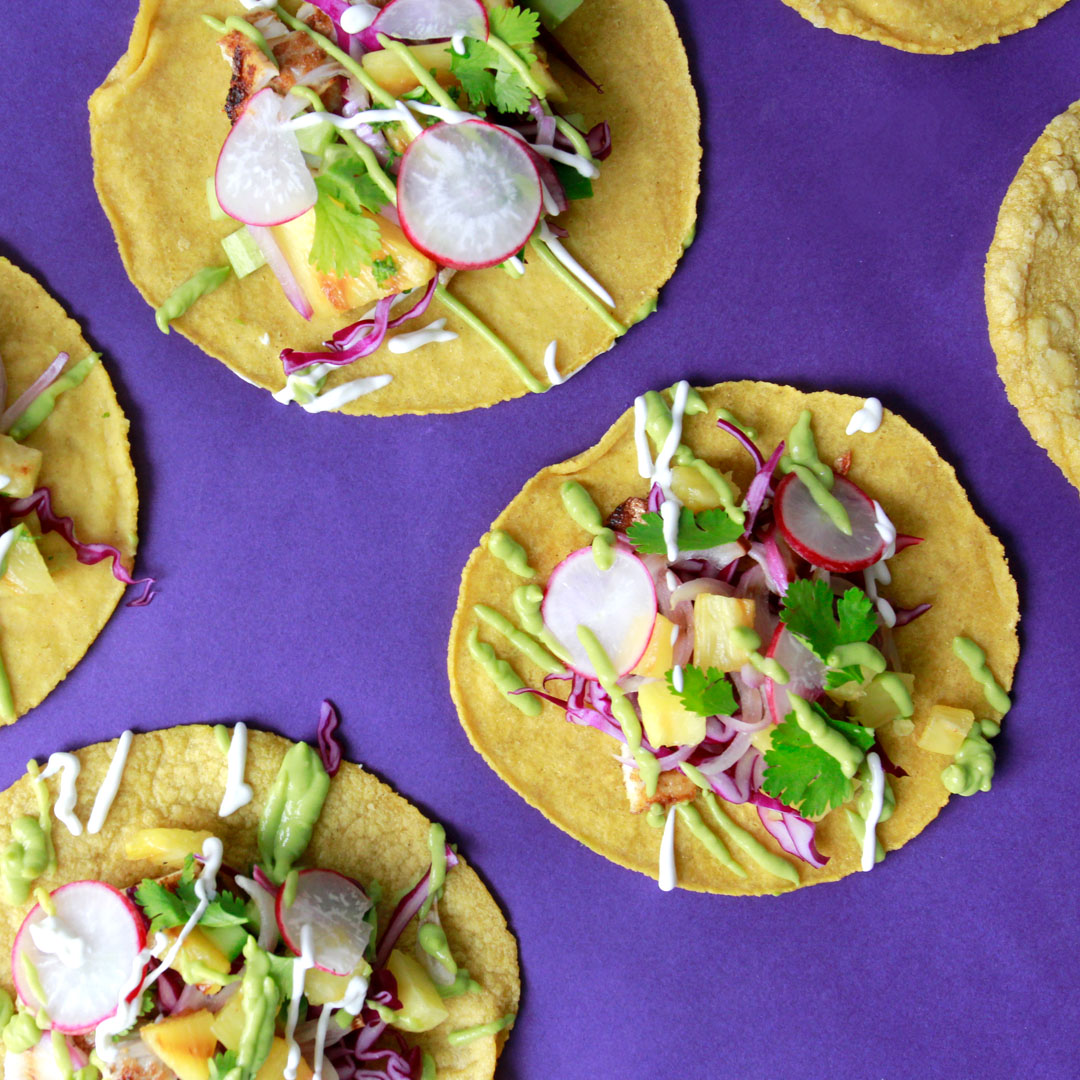 For the slaw
Combine thinly sliced cabbage, diced cucumber, lime juice, coriander, salt and pepper in a bowl.

Grill pineapple and red onion on a griddle until scorched and softened. (Option to omit this step but it adds flavour and also makes the onion less strong).

Once cooled, add pineapple and onion to the rest of the slaw mixture.
For the fish  
Combine all spices, oil and lime juice and then rub over the fish fillets. Marinate for 30 – 60 minutes.

Heat a pan on medium heat, add 1 tbsp ghee and cook the fish. It should take 3 – 5 minutes per side to be nicely browned.

Remove from the pan and break into pieces for each taco.
For the avocado puree
Blend avocado with lime juice, cumin and salt until smooth.
To assemble
Layer the fish and slaw onto a taco shell.

Garnish with the radish, coriander leaves and sour cream.

Add avocado puree.