We hope everyone is having a good week. It's been hectic on our side as we have something special to announce this Thursday that we've been working hard on! When you're busy running around, it's often easy to forget to take care of yourself, but it's so important to make sure you don't get run down and sick. Eating the right foods can help you build up your IMMUNITY, which is our focus for the month of March.
Today's recipe is a gooseberry and mango crumble, which we have selected this month because of the immunity boosting qualities of gooseberries. Gooseberries actually have more Vitamin C than lemons, which helps to boost your immunity and clear your skin. In addition, they are full of Vitamin A, which is known to improve eyesight and of course immunity too. They are also known for their anti-oxidant qualities, which are unique compared to other berries because of their yellow-orange color.
If you've never had a gooseberry and wondering what to expect, think about Sour Patch Kids, but the healthy version of course! We're so excited about this recipe, we may bake one on Thursday to celebrate our announcement!
Gooseberry & Mango Crumble (makes one 25cm shallow crumble)  
30 – 40 minutes
INGREDIENTS
 For the fruit mixture
1 mango (approx. 560g) from the Fruitful Day Box

100g gooseberries from the Fruitful Day Box

20g coconut sugar

Juice 1 lime

1 tsp cinnamon
 For the crumble  
 

50g gluten free flour

100g almond flour
40g coconut flour
80g roughly chopped almonds
30g coconut sugar
125g grass fed butter
2 tsp cinnamon
2tsp ginger powder
Pinch of salt
METHOD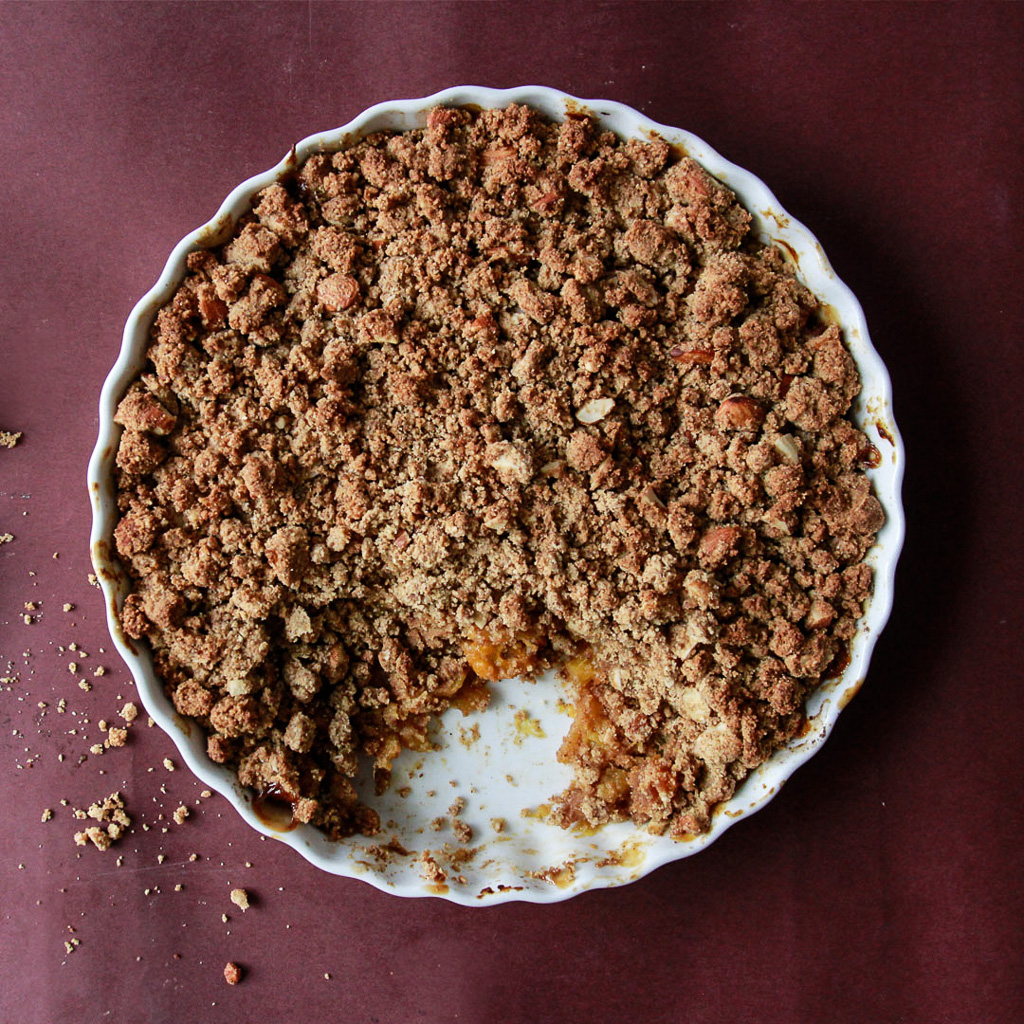 Preheat oven to 160 degrees C.

Cube the mango, cut the tops off the gooseberries and cut them in half.

Place fruits in a bowl along with the coconut sugar, lime, salt and cinnamon. Mix well and then scoop into the baking dish.

Bake the fruit mixture on it's own for 10 minutes. This ensures a very caramelised flavour.

While the fruit is baking, mix all flours together in a bowl along with the chopped almonds, coconut sugar, cinnamon, ginger and salt.

Cube the butter and then rub it into the flour and spice mixture. The mixture should begin to be crumbly, however, you don't want the crumbs to be too small as they will burn in the oven.

Remove the fruit mixture from the oven and sprinkle the crumble mixture over it evenly.

Return to the oven and bake for 10 – 12 minutes or until browned on top.

Serve with yoghurt or cream.